Children & Youth Ministries
We provide today's youth with a strong foundation that prepares them to minister, fellowship, evangelize with other youth, and build a personal relationship with the Lord by providing ministries which include:
Children's Church
The Children's Church Ministry is an energetic, exciting, and fun-filled atmosphere of learning about God. The ministry is filled with challenges and learning opportunities to continue the spiritual development of each child through focused children's ministry themes.
Children's Retreat: Annual
The Children's Work Committee diligently works each year to make this event a Spirit-filled day. The children enjoy a full day of arts and crafts, sports, recreation and great fellowship with one another. The program culminates with age-appropriate worship and a special message for the children.
On my honor I will try to serve God and my country, to help people at all times, and to live by the Girl Scout Law.
Through interactive/hands-on curriculum, activities and trips help girls become leaders in their communities, and learn to assist and serve others.
The Girl Scouts of Grace Baptist Church of Germantown are thankful and grateful to our Church family for their continued support of the program, especially our yearly fundraiser, The Girl Scout Cookie Sale, which enables the girls to participate in Girl Scout camps and other activities.
Meets:
The Scouts meets on the 1st and 3rd Saturday at 10:00 a.m.
Daisies Troop (K thru 1st grade)
Brownie Troop (2nd thru 3rd grade)
Junior Troop (4th thru 6th grade)
Scouts-Boys
Dr. Samuel P. Coleman, IV, Cubmaster
Participants in the Inaugural Parade of President Joe Biden and Vice President Kamala Harris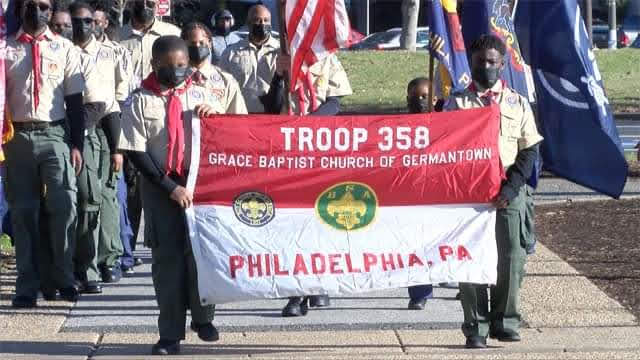 The Cub Scout program emphasizes character development, personal achievement, and fun. Cub Scouting involves a variety of family activities, encourages good behavior, teaches lifelong values, and strengthens the bonds of family. The Cub Scout programs trains young boys to serve God & Country, be physically strong, mentally aware and morally straight.
In February of 2022 Pack 358 celebrated 70 years of scouting at Grace Baptist Church of Germantown.
Meets:
The Boy Scout Troop meets on Wednesday during the academic year at 7:00 p.m.
The Cub Scout Pack meets on Saturday at 10:00 a.m. – 12:00 p.m.
Webelo
Den
Wolf
Tiger Den