Children & Youth Ministries
To ensure the safety and well-being of the congregation and our community, meetings, programs and events will be announced.
We provide today's youth with a strong foundation that prepares them to minister, fellowship, evangelize with other youth, and build a personal relationship with the Lord by providing ministries which include:
Children's Retreat: Annual
The Children's Work Committee diligently works each year to make this event a Spirit-filled day. The children enjoy a full day of arts and crafts, sports, recreation and great fellowship with one another. The program culminates with age-appropriate worship and a special message for the children.
Scouts-Girls
Through interactive/hands-on curriculum, activities and trips help girls become leaders in their communities, and learn to assist and serve others.
Meets:
The Scouts meets on the 1st and 3rd Saturday at 10:00 a.m.
Daisies Troop (K thru 1st grade)
Brownie Troop (2nd thru 3rd grade)
Junior Troop (4th thru 6th grade)
Scouts-Boys
Participants in the Inaugural Parade of President Joe Biden and Vice President Kamala Harris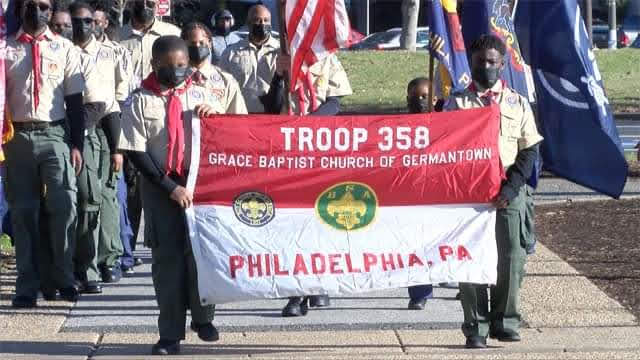 Train young boys to serve God & Country, be physically strong, mentally aware and morally straight.
Meets:
The Boy Scout Troop meets on Wednesday during the academic year at 7:00 p.m.
The Cub Scout Pack meets on Saturday at 10:00 a.m. – 12:00 p.m.
Webelo
Den
Wolf
Tiger Den