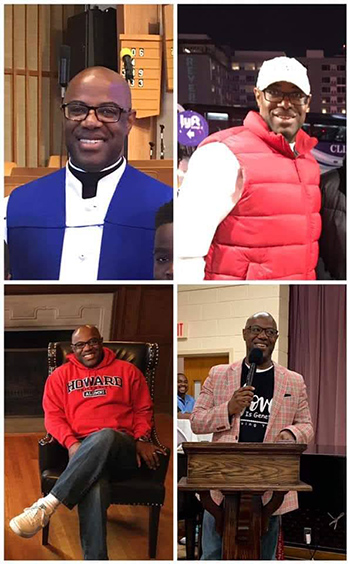 Rev. Dr. J. Henry Buck, Jr.
Rev. Dr. J. Henry Buck, Jr., is the tenth Senior Pastor of the Historic Grace Baptist Church of Germantown, located in Philadelphia, Pennsylvania. Rev. Buck is described as an unapologetic, courageous and dynamically gifted visionary leader and preacher. Rev. Buck has been called on by many religious organizations and ecumenical institutions to participate in Church and Pastoral Ministries and discussions.
Rev. Buck was born in the city of Port Gibson, MS, to the late Rev. Dr. James Henry Buck, Sr., and the late Mrs. Agnes Marie Aikerson Buck. He completed his education in the Claiborne County Public School System and after beginning a brief period after high school at the Phillips Junior College of Jackson, MS, Rev. Buck decided to enlist into the United States Armed Forces where he received several medals and accommodations of honor, having been assigned the the Fort Carson, Colorado 4th Infantry Brigade. After his honorable discharged, Rev. Buck decided to continue his maturation in the State of Colorado, thus moving to Denver. It was at this time, in the year of 1998, that he met and joined the Rising Star Baptist Church of Denver, Colorado under the leadership of Rev. Dr. Jules E. Smith and Rev. Ida G. Smith. Rev. Buck accepted his call to the Gospel Ministry under the teachings and mentoring of Dr. Smith and was later licensed to preach at the Rising Star Baptist Church. He was ordained at the Ebenezer Baptist Church under the leadership of the Rev. Dr. Duane T. Kay. Rev. Buck represents a third generation of preachers in the Buck Family.
After his exit from the military and living in the city of Denver, Colorado, Rev. Buck continued his desire to work in state and federal law enforcement. Rev. Buck went on to complete his educational responsibilities in the Washington, D.C vicinity with a Bachelor's of Science Degree from Potomac University. He went on to continue his graduate work at the Howard University School of Divinity where he earned his Masters of Divinity Degree. Rev. Buck received the Donald Barton Award from the Howard University School of Divinity recognizing his strong spirit for Pastoral Leadership. Rev. Buck was recognized and conferred with an Honorary Doctorate Degree from the Martha's Vineyard Theological Seminary in Daytona Beach, Florida. Rev. Buck has completed his studies at the Colgate Rochester Crozer Divinity School of Rochester, New York where he received his degree in Transformative Leadership. The title of his dissertation was "Reduction of Recidivism Among African Americans Through Church Based Programs".
Presently, as the Senior Pastor of the 127-year-old Grace Baptist Church of Germantown in Philadelphia, Rev. Buck is working on the "Mission Possible" Vision Plan which evolves around the five platforms of Ministry: Mission, Evangelism, Discipleship, Stewardship and Worship. In this plan, Rev. Buck seeks to establish leadership training along with youth and young adult development for the future church. Rev. Buck believes that if the church is going to be successful under the leading and guiding of the Holy Spirit, it must "Return the Church Back to Christ". Under the "Mission Possible" Ministry, Rev. Buck is able to draw on the past accomplishments that the Holy Spirit has allowed to be manifest in this present age. He has been instrumental in creating a medical clinic in the community to serve the underprivileged. He has opened an early childhood development center to aid mothers and fathers in the Philadelphia area. He has created entrepreneur opportunities for many youth as well as sending, to date, five students to study at Howard University. Rev. Buck also started a Pie Company to address the unemployment issues of Returning Citizens and he is a proud member of Kappa Alpha Psi Fraternity, Inc.
Under the visionary plan of the "Mission Possible" Ministry, Rev. Buck believes that the Church must be the generator of spiritual, social and economic ingenuity and also, the Church should be able to create housing opportunities for those who backs are against the margins of society. The Church must seek to educate its community through the efforts of formal educational opportunities.
Rev. Buck's hobbies are fishing, HBCU sports, traveling, entrepreneur readings, studying and reading, as well as helping others.
Rev. Buck is married to the beautiful Jennifer Jill Wilson Buck. Jennifer is a graduate of the Northumberland Public School System of Edwardsville, VA. Jennifer completed her undergraduate studies and degree at Mary Washington University, where she was also an inductee into the College Hall of Fame for her participation in collegiate basketball, softball and volleyball. Jennifer also completed her graduate degree at the Marymount University of Arlington, VA, receiving her license as a Physical Therapist. They are the proud parents of Master James H. Buck, III and the Duchess of Philadelphia, Jaida Jill Buck.
Rev. Buck believes that the narrative of his ministry in this season is centered around the words of the Apostle Paul in 2nd Corinthians 4:4 "For we preach not ourselves, but Jesus Christ our Lord; and ourselves your servants for Jesus' sake."